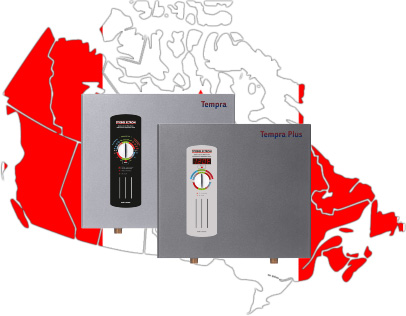 Electric Tankless Water Heaters
Finally a Canadian company that not only carries the full line of Electric Tankless Water Heaters by Stiebel Eltron, but also ships to all of our Canadian customers from our warehouse in Kamloops, BC, Canada. In addition to not having to worry about duties, brokerage charges, or any suprises we also offer a lowest price guarantee which includes any authorized Stiebel Eltron dealer in North America. Yes, you read that correctly. We are willing to price match not only Canadian dealers, but US distributors and websites as well!
Endless Hot Water for Canada's Endless Winters
Unlike a traditional tank style water heater which continously keeps a limited amount of water hot in case you need to you it, Stiebel Eltron electric tankless water heaters heat the water as it flows through the unit. This "on demand" style of heating has been popular in Europe and Asia for many years, but only recently has the technology improved enough to handle our Canadian climate and flow rate expectations.
No standy-by heat loss

Save 30 - 40% on your water heating bill

Endless hot water - An entire hockey team could shower one after another without ever running out of hot water

99.9% efficient water heating

Space Savings - Why take up valuable space with a large tank.