Home
>
Whole House Tankless
Whole House Electric Tankless Water Heaters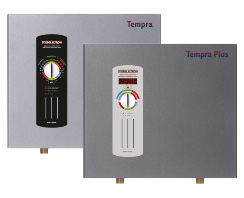 The Stiebel Eltron Tempra and Tempra Plus Series electric tankless water heaters are the most sophisticated electric tankless water heaters available on the market today.
Ranging in power from 12 to 36 KW, Stiebel Eltron offers a model for a wide range of point-of-use, whole house, and commercial hot water applications. All Stiebel Eltron Tempra & Tempra Plus Series tankless water heaters feature their advanced microprocessor technology which constantly monitors the water flow rate and incoming water temperature and adjusts the power level to maintain a precise output temperature as selected by the user.
The Tempra Plus series tankless water heaters take temperature control to whole other level, with the industry's only Advanced Flow Control technology. Stiebel Etron's Advanced Flow Control technology will automatically adjust the flow of water if the unit's sensor's detect that the flow demand is exceeding the heater's capacity. This feature is very desirable in cold climates and recommended for temperature-critical applications (commercial dishwashers, etc.) where flow rates are not always predictable.
A dial on the front of the tankless water heater allows you to set your desired output water temperature between 86 and 140F (30 to 60C)[Note, maximum temperature setting on some models is 125F (52C)].