Home
>
Whole House Tankless
>
Stiebel Eltron Tempra 29 Trend
There are currently no reviews for this product.
Be the first to write a review.
Stiebel Eltron Tempra 29 Trend (New 3rd Gen.)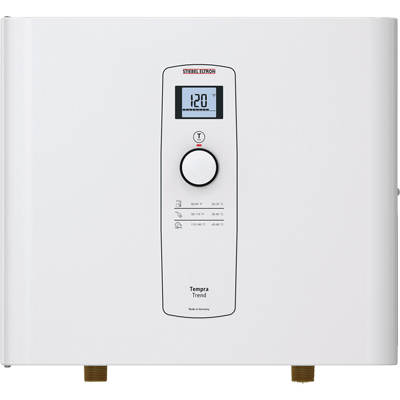 The new Tempra 29 Trend replaces the discontinued Tempra 29B.
It offers all the same features of the Tempra 29B, with a new digital display, in a modern white powder-coated case.
The 28.8 KW Stiebel Eltron Tempra 29 Trend electric tankless water heater is one of our three most popular units in Canada. It is designed to handle our Northern winters with higher flow applications, yet can be installed on a 200 amp electrical service (often found in newer or larger older homes).
The Tempra 29 Trend features Stiebel Eltrons true microprocessor-controlled temperature regulation and full power modulation based on both incoming water temperature and flow rate required. This means the Tempra 29 Trend will measure the flow rate of whatever applications you have turned on, determine the incoming water temperature, and apply the appropriate amount of power to heat the water to the temperature you have set it to. A dial on the front of the unit allows you to set the output water temperature anywhere between 30°C and 60°C. The Tempra series of electric tankless water heaters are one of only a few tankless water heaters available today that feature a true thermostatic temperature and full power-modulation experience. This means no fluctuating water temperatures.
The Stiebel Eltron Tempra Series electric tankless water heaters feature the most precise temperature control of any tankless water heater on the market today!
Maximum Flow Rate
in Gallons Per Minute
40°C (105°F) Output Temp

Incoming Water Temp:
Flow Rate (GPM)
4°C (40°F)
3.0 GPM
7°C (45°F)
3.3 GPM
10°C (50°F)
3.9 GPM
13°C (55°F)
3.9 GPM
15°C (60°F)
4.4 GPM
18°C (65°F)
4.9 GPM
21°C (70°F)
5.6 GPM
24°C (75°F)
6.5 GPM
Stiebel Eltron Tempra 29 Trend Specifications
Thermostatically
Controlled?
Yes, digital temperature control and full power modulation based on flow rate and incoming water temperature.
Digital Display
Yes
KW
28.8 KW @ 240v / 21.6 KW @ 208v
Voltage:
208 - 240 volts / single phase / 50 - 60 Hz
Max. Amps:
120 AMPS @ 240v / 105 AMPS @ 208v
Breakers Required:*
3 x 40 AMP Breakers (240 volt, double pole)
Wiring:*
Minimum 3 x #8 AWG Copper (depends on local codes)
Dimensions:
16.6 x 14.5 x 4.6" (42 x 36.8 x 11.7 cm)
Weight:
17.6 lbs (8.6 KG)
Pipe Fittings:
3/4" NPT
Energy Efficiency:
99%+
Activation Flow Rate:
0.77 GPM / 2.9 LPM
Max. Water Pressure:
150 psi (tested to 300 psi)
Max. Output Temperature:
60C (140F)
Max. Input Temperature:
55C (131F)
Warranty:
Manufacturer's 3 Year Warranty
Safety:
ETL Listed (US & Canada) - meets all applicable standards, including ANSI/UL 499 (USA) and CSA-E335-1/3E-94 (Canada)
Protection:
microprocessor-based thermostatic temperature control (flow rate and temperature modulating) with thermal hi-limit cut-out switch monitoring each heating module
* Breaker size and wire gauge must meet all applicable local, state, provincial, and national electrical codes for your area - these are only guidelines that will apply to most installations. Some codes require use of electrical sub-panel for installation, especially when heater is not mounted within line-of-sight of the main electrical panel. Wiring should be sized to maintain a voltage drop of less than 3% under load. Please consult your electrician for more details.
Selecting an Installation Location
The Stiebel Eltron Tempra 29 Trend electric tankless water heater can be installed in a wide variety of locations due to it's small size. It is important to note that there are a number of guidlines that you should follow in order to choose a safe and convenient installation location. For full installation instructions download the Stiebel Eltron Tempra Installation Guide.
In most cases it is easiest to install where your traditional tank was located
Install on a solid and secure surface
Install close to electrical panel
Install 24" from combustible materials
Do not install outdoors
Do not install in high humidity environments
Do not install in a location that is difficult to access
Do not install where there is a potential for the unit to freeze
Recommended Clearances
It is recommended to proivde a minimum of 5 inches clearance in all directions (except the back panel of course).
Product Requirements
Please note: A minimum 200 AMP household electrical service is highly recommended and will likely be required to install this model. If you are unsure of your electrical capacity in your home, please consult your electrician or contact us for assistance before ordering.
There are currently no reviews for this product.
Be the first to
write a review.