Stiebel Eltron DHC 4-3 Classic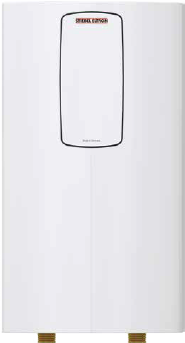 Product Description
Specifications
Reviews
The Stiebel Eltron DHC 4-3 electric tankless water heaters are energy efficient, German engineered, and ultra-compact point-of-use tankless water heaters designed for basic applications. Common point-of-use tankless applications include many bathroom sinks, kitchens, commercial washrooms, emergency eyewash stations, etc. The DHC 4-3 can easily be positioned beneach a sink or inside a nearby cupboard or closet, so it delivers hot water to the sink almost instantly. If the heater is located close to the faucet, thermal heat loss, which occurs with longer pipe runs, can be essentially eliminated. If there is only one sink in a room that is a long distance from a home's primary water heater, the DHC 4-3 can be used to supply the hot water for that sink and you may even be able to eliminate the need to run a hot water line all the way to the other end of the house. Accordingly, the installation of a point of use electric tankless water heater can result in notable cost savings in plumbing materials and labour.
The Stiebel Eltron DHC 4-3 is extremely energy efficient, drawing electricity only when the hot water faucet is being used. As soon as the water is turned off, the heater stops drawing power. A built-in water flow sensor recognizes when hot water is turned on and off, so the unit is able to activate and deactivate automatically. When switching to a tankless system, the standby thermal heat losses resulting from traditional tank type water heaters are completely eliminated. In addition, users can expect to see a significant reduction in operating cost as compared to a standard tank-style water heater that runs on and off 24 hours a day regardless of the amount of hot water used.
The DHC 4-3 is designed for applications with a relatively low, constant flow rate. If your application involves fluctuating water demands, incoming water temperatures, or water pressures, we recommend that you consider a DHC-E Series tankless water heater with thermostatic control and flow-based power modulation technology.
The DHC series tankless electric water heaters from Stiebel Eltron are economical, reliable and can provide an endless supply of hot water for point-of-use applications.
Maximum Flow Rate
in Gallons Per Minute
40°C (105°F) Output Temp

Incoming Water Temp:
Flow Rate (GPM)
4°C (40°F)
0.47 GPM
7°C (45°F)
0.51 GPM
10°C (50°F)
0.56 GPM
13°C (55°F)
0.61 GPM
15°C (60°F)
0.68 GPM
18°C (65°F)
0.77 GPM
21°C (70°F)
0.87 GPM
24°C (75°F)
1.02 GPM
27°C (80°F)
1.22 GPM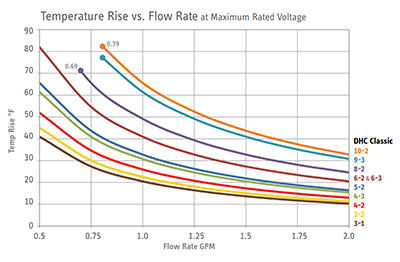 Stiebel Eltron DHC 4-3 Specifications
@ 277 volts
KW
4.5 KW
Voltage:
277 volts / single phase / 50 - 60 Hz
Max. Amps:
17
Breakers Required:*
1 x 20 AMP breaker
Wiring:*
Minimum #12 AWG Copper
Dimensions:
14.25 x 7.9 x 4.1" (36 x 20 x 11 cm)
Weight:
4.6 lbs (2.1 KG)
Pipe Fittings:
1/2" NPT
Energy Efficiency:
99%+
Activation Flow Rate:
0.42 GPM / 1.6 LPM
Max. Water Pressure:
150 psi (tested to 300 psi)
Warranty:
Manufacturer's 3 Year Warranty
Safety:
ETL Listed (US & Canada)
Protection:
scald guard thermostat and thermal hi-limit cut-out switch
* Breaker size and wire gauge must meet all applicable local, state, provincial, and national electrical codes for your area - these are only guidelines that will apply to most installations. Some codes require use of electrical sub-panel for installation, especially when heater is not mounted within line-of-sight of the main electrical panel. Wiring should be sized to maintain a voltage drop of less than 3% under load. Please consult your electrician for more details.
There are currently no reviews for this product. Be the first to
write a review.