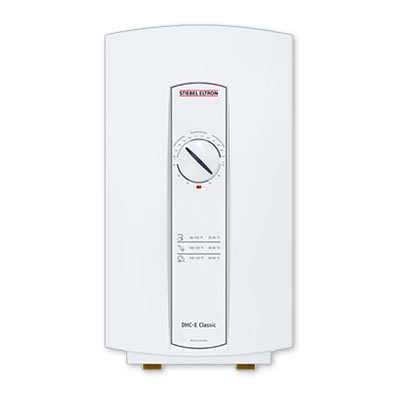 Product Description
Specifications
Reviews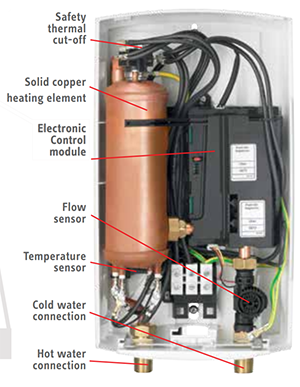 Stiebel Eltron's DHC-E 12 point-of-use electric tankless water heaters are sophisticated, energy efficient point-of-use water heaters. These reliable units offer a sleek design, temperature control, a 3-year warranty and energy efficiency with no venting required. DHC-E 12 water heaters have been used in kitchens and bathrooms for both residential and commercial purposes as well as for more specialized applications such as emergency eyewash stations.
The DHC-E 12 has been designed to detect incoming water temperature and flow rate in order to calculate the precise amount of electricity needed to heat the water to its thermostatically set temperature. This ability to monitor incoming water flow and temperature in real-time to dictate the unit's electrical draw is called flow-based power modulation technology, which is the same technology found in Stiebel Eltron's popular Tempra line of whole-house water heaters. Flow-based power modulation maximizes the heater's efficiency by only using the calculated amount of electricity to heat the water up to the user's set temperature - there is no wasted energy. This advanced microprocessor technology sets Stiebel Eltron's DHC-E point-of-use heaters apart from those manufactured by its competitors.
The Stiebel Eltron DHC-E series tankless water heaters are the most technologically advanced point-of-use tankless water heaters available on the market today.
Maximum Flow Rate
in Gallons Per Minute
40°C (105°F) Output Temp

Incoming Water Temp:
Flow Rate (GPM)
4°C (40°F)
1.3 GPM
7°C (45°F)
1.4 GPM
10°C (50°F)
1.5 GPM
13°C (55°F)
1.6 GPM
15°C (60°F)
1.8 GPM
18°C (65°F)
2.0 GPM
21°C (70°F)
2.3 GPM
24°C (75°F)
2.7 GPM
Stiebel Eltron DHC-E 12 Specifications
@ 240v
@ 208v
Thermostatically Controlled?
Yes, digital temperature control and full power modulation based on flow rate and incoming water temperature.
KW
12 KW @ 240v
9 KW @ 208v
Voltage:
208 - 240 volts / single phase / 50 - 60 Hz
Max. Amps:
50 AMPS @ 240v
44 AMPS @ 208v
Breakers Required:*
1 x 50 AMP breaker
1 x 60 AMP breaker
Wiring:*
Minimum #8 AWG Copper
Dimensions:
14.25 x 7.9 x 4.1" (36 x 20 x 11 cm)
Weight:
5.9 lbs (2.7 KG)
Pipe Fittings:
1/2" NPT
Energy Efficiency:
99%+
Activation Flow Rate:
0.29 GPM / 1.1 LPM
Max. Water Pressure:
150 psi (tested to 300 psi)
Warranty:
Manufacturer's 3 Year Warranty
Safety:
ETL Listed (US & Canada)
Protection:
microprocessor-based thermostatic temperature control (flow rate and temperature modulating) with thermal hi-limit cut-out switch
* Breaker size and wire gauge must meet all applicable local, state, provincial, and national electrical codes for your area - these are only guidelines that will apply to most installations. Some codes require use of electrical sub-panel for installation, especially when heater is not mounted within line-of-sight of the main electrical panel. Wiring should be sized to maintain a voltage drop of less than 3% under load. Please consult your electrician for more details.
There are currently no reviews for this product. Be the first to
write a review.