Stiebel Eltron SHC-4.5 Mini Tank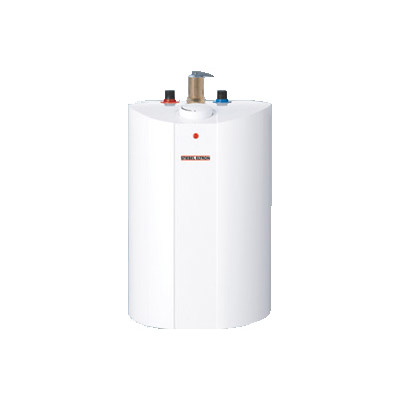 Product Description
Specifications
Reviews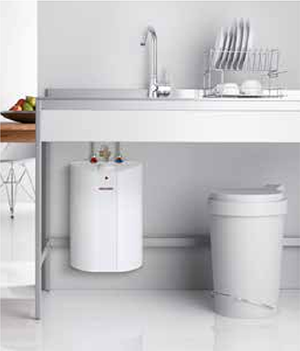 The SHC-4 Mini Tank water heater offers a number of conveniences for point-of-use water heating applications. The unit is wall-mountable and very compact, standing under 20 inches tall with its width and depth each just over 12 inches in size. The SHC-4 is also extremely efficient with a glass-lined tank and an electrical requirment of just a standard 110-120V outlet. Why send your hot water through 40 feet of pipe to the other end of the house when you can hold 4.0 gallons of hot water directly beneath a distant sink? The water is always ready when you need it and it is not an excessive volume to store, which keeps electrical costs to a minimum. SHC-4 water heaters have numerous uses in both residential and business including kitchen sinks, bathroom sinks, and a range of other small applications.
The SHC-4 is a German engineered and manufactured product from Stiebel Eltron, a company with a 90-year history of quality and reliability. The unit is simple to install, eliminates long pipe runs, reduces stand-by heating losses with first class insulation, and has a 6-year warranty on the tank with a 2-year warranty on all other components.
The SHC-4 mini-tank comes with a sturdy mounting bracket and a T&P (temperature and pressure) valve is included.
The SHC-4 point of use water heater is the most energy efficient 4 gallon mini-tank electric water heater available on the market today.
Stiebel Eltron SHC-4 Mini Tank Specifications
Thermostatically Controlled?
Yes
Maximum Temp Setting:
140F (60C)
Nominal Water Volume:
4.0 gallons (15 L)
Watts:
1300
Voltage:
110 - 120 volts / single phase / 50 - 60 Hz
Max. Amps:
11.3*
Dimensions:
19.75H x 12.6W x 12.5D" (50 x 32 x 31.8 cm)
Weight:
19.8 lbs (9 KG)
Pipe Fittings:
1/2" NPT
Recovery Time:
27 minutes
Max. Water Pressure:
150 psi (10 bar)
Safety:
ETL Listed (US/CAN)
Warranty:
6 years against leakage / 2 years against defects in workmanship & materials
Protection:
Temperature & Pressure (T & P) relief valve included
*Please note: The SHC 4 can be plugged into a standard 110/120v electrical outlet however, we recommend that the outlet be dedicated to the water heater.
Stiebel Eltron SHC 4.5 Reviews
Stiebel Eltron SHC 4 Mini Tank water heater.


I love it. I now have hot water in my kitchen after 3 seconds instead of 3-4 minutes, as the hot water heater is so far away. It heats very fast, so, I probably could have used the 2 gallon one which would have taken less space. \r\ni am so happy to have hot water quickly. You have no idea what a nuisance it is to have to run 2 gallons to get hot water and then when it is off for 10 minutes you have to do it again. Thank you to Jessie from Stiebel For her help and guidance with finding the one which would work in my house with my wiring. - Toni Loo