Home
>
Point of Use Tankless
>
Mini-Tank Series
Stiebel Eltron Mini-Tank Series Tankless Water Heaters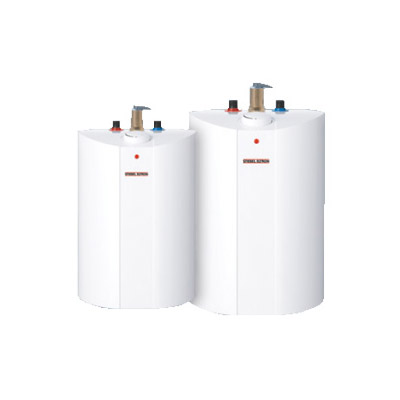 The Stiebel Eltron SHC Series mini-tanks are ideally suited for point of use applications where low volumes of water are required at a single time. This may include bathroom sinks, kitchens, commercial washrooms, and any other point of use applications where high volumes of water are not required. Storing 2.65 gallons (10 L) to 3.96 gallons (15 L) these mini tank water heaters can handle higher flow rates for very short periods of time. Due to their compact size they can often be installed under a sink or in adjacent cabinets, thus avoiding the wait for hot water that long plumbing runs can cause. This lack of a long run, and the SHC mini-tanks high quality insulation and glass lined tank means they will provide a highly efficient solution for your water heating needs.
The SHC Series mini-tanks are designed to mount on any vertical surface using the included sturdy mounting bracket. Once the unit is mounted simply fill it with water and plug it into a standard household electrical outlet.
A Temperature and Pressure (T&P) valve is also included and should be installed on your water line.
Stiebel Eltron SHC Series Mini-Tank Water Heaters
Stiebel Eltron SHC-2.5
Stiebel Eltron SHC-4
Thermostatically Controlled?
Yes
Maximum Temp Setting
140F (60C)
Nominal Water Volume
2.65 gallons (10 L)
4.0 gallons (15 L)
Watts
1300
Voltage:
110 - 120 volts
single phase / 50 - 60 Hz
Max. Amps:
11.3*
Dimensions:
18.7H x 11W x 10.6" (47.5 x 28 x 27 cm)
19.75H x 12.6W x 12.5D" (50 x 32 x 31.8 cm)
Weight:
15.9 lbs (7.2 KG)
19.8 lbs (9 KG)
Pipe Fittings:
1/2" NPT
Recovery Time:
18 minutes
27 minutes
Max. Water Pressure:
150 psi (10 bar)
Safety:
ETL Listed (US/CAN)
Protection:
Temperature & Pressure (T & P) relief valve included
Stiebel Eltron SHC-2.5 Mini Tank Water Heater
Stiebel Eltron SHC-4 Mini Tank Water Heater
* Breaker size and wire gauge must meet all applicable local, state, provincial, and national electrical codes for your area - these are only guidelines that will apply to most installations. Please consult your electrician for more details.