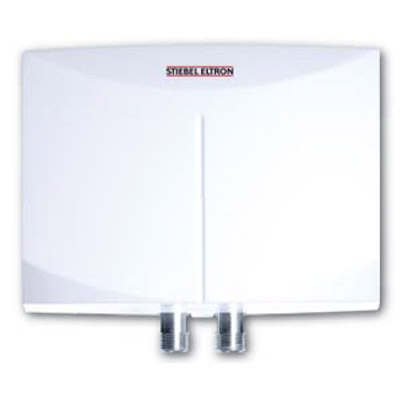 Product Description
Specifications
Reviews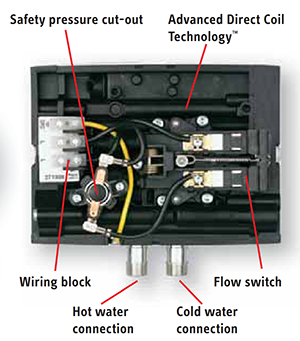 The Mini 3 point of use tankless electric water heater manufactured by Stiebel Eltron offers a number of advantages for this method of heating water. The Mini 3 can provide an unlimited flow of hot water, it is compact and can easily be installed under a cabinet, and this heater is extremely energy efficient.
The Mini 3 produces hot water on demand only as it is required. A sensitive water flow sensor recognizes when the hot water faucet is being turned on and the unit activates and deactivates automatically so it only runs when you are actually using hot water. This ability to sense flow eliminates the standby thermal heat losses that go hand in hand with traditional tank-style water heaters.
The Mini Series is most suited to applications in which relatively low constant flow rates are used. Common applications include bathroom sinks in commercial and residential applications, and for other locations where electrical availability is limited and where strong flow rates are not required. The unit is installed using a 110-120V connection on a 25 AMP breaker. The Mini 3 has an activation flow rate requirement of 0.4 gallons per minute (GPM).
For ultra low-flow hot water applications, the Stiebel Eltron Mini 3 is the most effective electric tankless water heater available.
Maximum Flow Rate
in Gallons Per Minute
40°C (105°F) Output Temp

Incoming Water Temp:
Flow Rate (GPM)
4°C (40°F)
not recommended
7°C (45°F)
not recommended
10°C (50°F)
not recommended
13°C (55°F)
not recommended
15°C (60°F)
not recommended
18°C (65°F)
0.58 GPM
21°C (70°F)
0.68 GPM
24°C (75°F)
0.82 GPM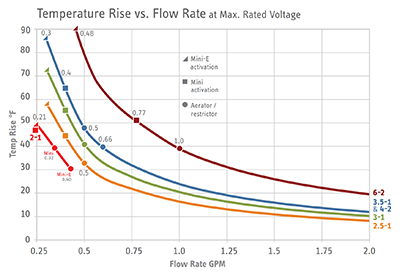 Stiebel Eltron Mini 3 Specifications
KW
3.0 KW @ 120v
Voltage:
110 - 120 volts / single phase / 50 - 60 Hz
Max. Amps:
25 AMPS
Breakers Required:*
25 AMP breaker (depends on local codes)
Wiring:*
Minimum #10 AWG Copper (depends on local codes)
Dimensions:
6.5 x 3.25 x 7.5" (16.5 x 8.2 x 19 cm)
Weight:
3.4 lbs (1.6 KG)
Pipe Fittings:
for 3/8" O.D. flex connector
Energy Efficiency:
99%+
Activation Flow Rate:
0.40 GPM / 1.5 LPM
Max. Water Pressure:
150 psi (tested to 300 psi)
Warranty:
Manufacturer's 3 Year Warranty
Safety:
ETL Listed (US & Canada)
Protection:
thermal hi-limit cut-out switch
* Breaker size and wire gauge must meet all applicable local, state, provincial, and national electrical codes for your area - these are only guidelines that will apply to most installations. Some codes require use of electrical sub-panel for installation, especially when heater is not mounted within line-of-sight of the main electrical panel. Wiring should be sized to maintain a voltage drop of less than 3% under load. Please consult your electrician for more details.
There are currently no reviews for this product. Be the first to
write a review.